I love Christmas.  It has long been my favorite holiday, ever since I was a kid and thought I might explode from excitement in the days leading up to Santa's visit, to the times I would lay with my head under the bottom of the Christmas tree watching the lights blink through the branches.   More recently there were years of watching my own kids marvel at the wonder that is Santa Claus, and now we relax and simply look forward to time together and finding gifts we know everyone will love.   If there is snow, so much the better.
Christmas has more than its' share of magic.
For our family, (at least my small branch of the family) the religious aspect of the holiday is not why we celebrate.   The Christian story provides a ton of beautiful music and a mystical backdrop, but our celebration centers around seeing family and friends.
For the past 19 years (oh my god I can't believe it's been that long) some friends and I have made it a point to get together just before Christmas, usually for breakfast.   Over the years we have expanded from a small group of 4 to a larger group that includes our spouses as one by one we married, and then various other friends who periodically join in.   This year we had 12 people at our annual gathering.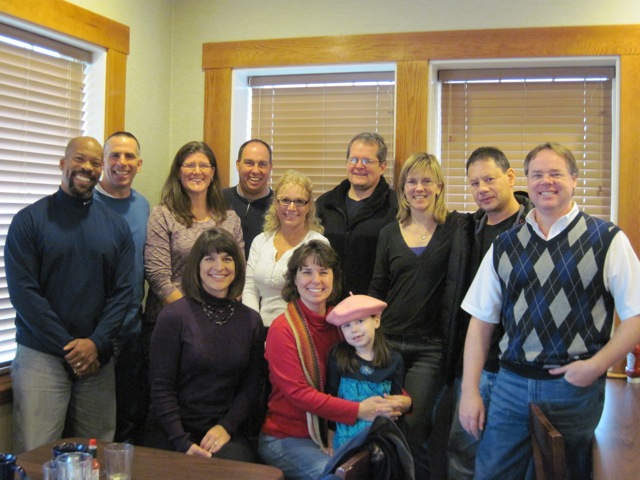 Here's the amazing thing about the people in the photo above:  some of us have known each other since we were 5 or 6 years old, others much less time; we have different religious beliefs, political beliefs and lifestyles.  Some of us have grown children, others small children and still others no children.
And yet.
When we meet each year, there is nothing but hugs and laughter and a true enjoyment of each others' company.    I wouldn't trade the time we spend together for anything.
Nothing compares to the comfort of time spent with family and good friends.
Merry Christmas everyone!
(And when I say we "relax", I really mean it, as you can see below!)