When we went to the Humane Society yesterday to see what cats they had for adoption, I was doing my best to keep expectations low.
Cosmo was going to be a very hard act to follow, and I feared that any cat we might find, no matter how sweet, would never be as loving and gentle as he was.
The director of adoptions met us and after speaking with her for a few minutes, telling her about the loss of our cat, she said, "I think you should meet Wally."
She went on to tell us that they don't know where Wally came from.  Someone dropped him off at their door, and he was so well-cared for, albeit a bit beat up (nick in his ear from a street fight), that they thought someone might come looking for him.  No one did.  He had a microchip that was never activated.  Whoever put him out didn't want him anymore.   The assistant then brought him out – a beautiful soft tiger stripe with a copper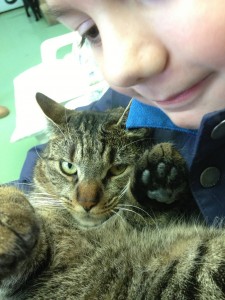 brown nose.   The director said, "Watch this" and picked him up, holding him on his back like a baby.  "What cat will let you hold him like this?"
We all started to smile, because we did know one cat that had routinely let himself be held just like that.
Before we left, Wally had napped on Ben's lap and eaten treats from our hands.  It was basically love at first sight.
Today we went and got him, and we've all decided that he was meant to be with us.  Maybe he is Cosmo's great, great, great grandnephew 5 x removed, and the loving, laid back gene got handed down straight to Wally.