It's a tradition.
Every year on Labor Day, pedestrians gather by the thousands to walk across the 5 mile span of the Mackinac Bridge.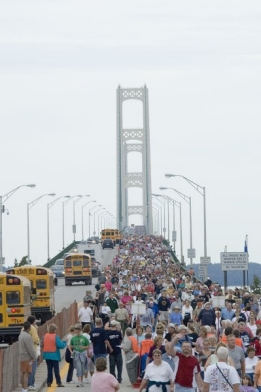 But that's not what we did today.
Instead, we joined a slightly smaller, if no less enthusiastic group of people to walk the Gogomain (pronounced Gah-go-main) River Bridge near Raber, Michigan.
We arrived for the walk, which began at noon, just before 11:30am.   The party was already in full swing, with hot dogs, sodas and more alcohol than you might expect at that hour of the day.   Lines formed to sign in and receive the official bridge walk certificate as well as to get an official Bridge Walk t-shirt.  Adult sizes only, unfortunately.   Lots of photos were taken.
Promptly at noon, the self-appointed master of ceremonies announced the beginning of the walk by yelling "Boom!".   Normally they have an actual cannon that signals the beginning of the walk, but the cannon's owner couldn't make it, so they had to improvise.
In about 5 minutes it was all over.
As one participant said, "This is better than the Mackinac Bridge walk because you don't have to take a bus back to the other side."  Can't argue with that.
Additional bonuses?  We had time to go for ice cream, make a stop at the St. Mary's River to wave at Canada and then head to the best sand beach on the planet.   With all due respect to ocean beaches all over the world, nothing beats the freshwater beaches of Huron.   Real waves, sand and no salt.   Fantastic!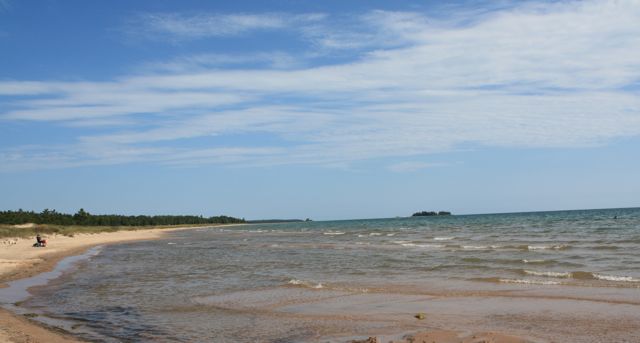 Happy Labor Day!