Last Saturday Ben went to his first ever rock concert.   (Those of you who know me personally have probably heard this story already, in some form or another.  Feel free to click on over to Dooce if you don't want to hear it again.)
He went to this concert courtesy of his good friend whose father is currently the drummer for the B-52′s and good friends with Matt Flynn, drummer for… Maroon 5.
Yes, my 8 year old son got to see Maroon 5 in concert at Madison Square Garden last Saturday night.
First of all, I have NEVER seen a concert in Madison Square Garden.
Second of all…they met the band.  I have never met the band.
Yes, the perk of going with friends of the drummer is that you get to go backstage before the show.  Not after the show when all the people who won contests on radio shows are there for the meet and greet, but before the show when singers are doing vocal warm-ups and the band is just milling around, waiting to go on.
Joshua and I went to a movie with a friend on Saturday night, and as we were sitting in a diner afterward, I got a text that read "The boys just met the band."   It was accompanied by a photo: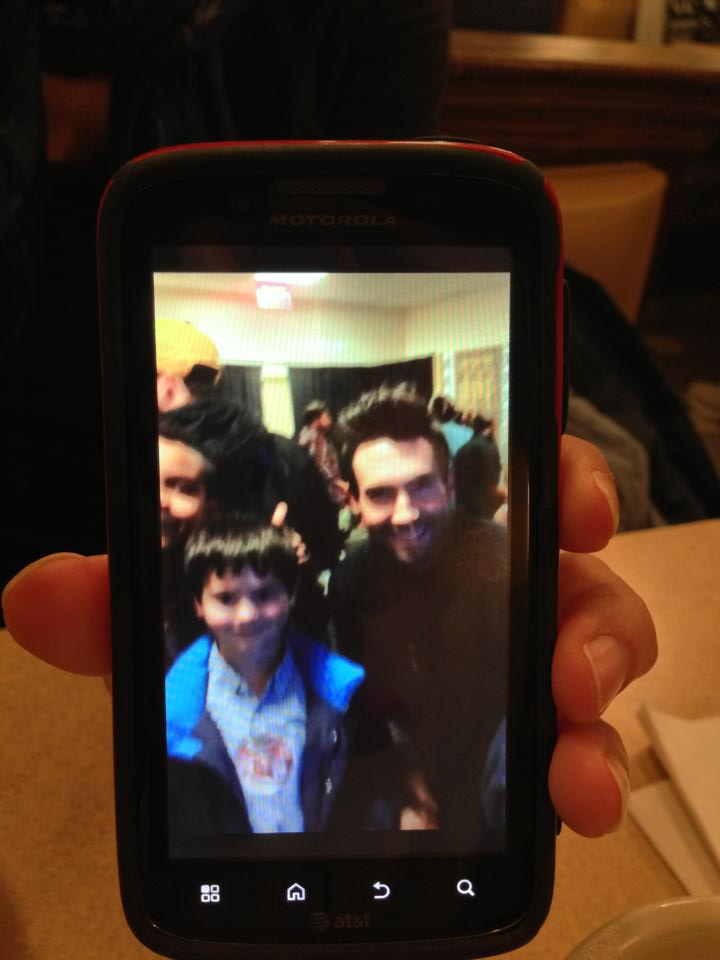 That is Ben on the left and Adam "Maroon 5 lead singer and 'The Voice' coach" Levine on the right.
Jealous?  Me?  Never!  (maybe just a little…)
What a first concert experience!  Ben was so laid back about it, and when I mentioned to him that I've never been backstage at a concert, his eyes got wide and he said "REALLY?!"
Oh boy.  He is really going to be disappointed when we get tickets through normal channels and sit in the nosebleed seats with everybody else.
Anyway, our friends are lovely for inviting him, and he had so much fun.  He loves Maroon 5 – their 4 albums make up 99.9% of his iPod playlist and he knows all the lyrics to every song.   He was thrilled that they performed his three favorite songs "Wipe Your Eyes", "One More Night" and "Won't Go Home Without You".   His only regret was that he didn't get a t-shirt.
(Adam Levine if you're reading this, we'd love a concert t-shirt.  X-small please.)
Needless to say, he didn't get much sympathy around here for the no t-shirt thing.
Just another Saturday night….