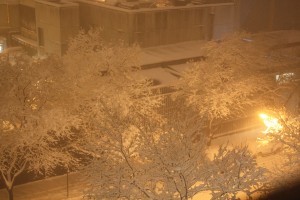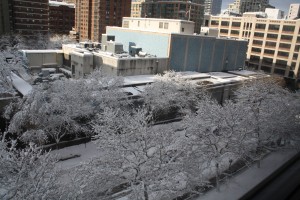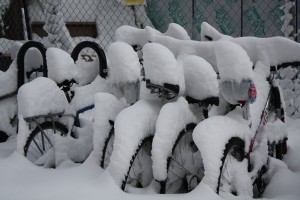 Last night we had a blizzard.   A real, honest to god, Laura Ingalls Wilder 'I'd be lost on the plains if I lived in the Dakotas' type of blizzard;  except we live in NYC, so getting lost is not really a possibility.
The first photo was taken last night at about 12:30am.   Taxi's were getting stuck as they came down 66th St. in front of our building, and I spent some time watching the drivers get out and try to dig themselves out…
The next photo was taken out the same window at about 9:30am.   Still not great on the streets, but very pretty to look at.
Then Ben and I went out at 10:30 because he spent the day with his friend Jonah, and we loved these bikes with the little snow mountains on the seats, wheels and handle bars.
The public schools got a snow day today (I guess they had to risk "a million kids wandering around with nothing to do" in Chancellor Black's words) so when Maya, Greta and I headed to Riverside to meet with friends and go sledding, it was more crowded than usual.   On the upside, the Parks Dept. had a table set up and were handing out free glasses of hot cider and hot chocolate, and the park rangers (yes, we have park rangers here in the city) had set up a sledding run and were handing out sleds to kids who might not have one of their own.  Pretty cool.
We opted for the 'unofficial' hill, which by midday had a great ramp of snow that you could fly off and go airborne for a couple of seconds.   This was best done on the boogie boards our friends brought with them because A. you could go down on hands and knees on top of the boards and B.  they had enough cushion so that you didn't need to immediately run to the chiropractor.    We were there for almost 3 hours.   Say what you will about the country, there are some hard core sledders here in the city.  People flying everywhere on amazing sleds of every dimension and style.
Yesterday (working backwards in this post) because it was snowing all day, we stayed inside.   Ben just learned how to play the regular Monopoly – as opposed to Monopoly Jr. – and I realized what a great game this is.    Adding, subtracting, multiplying, figuring percentages – it's all there!   Ben was doing subtracting in his head and figuring 10% of numbers like 560, all after one morning of Monopoly.   They didn't even get in to mortgaging properties and stuff like that.  Waaaay better, in my opinion, than sitting down to a workbook and trying to teach fractions and percentages that way.   At least in our house.