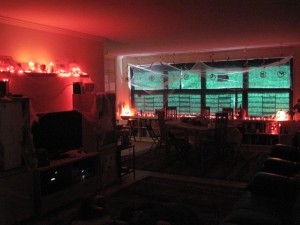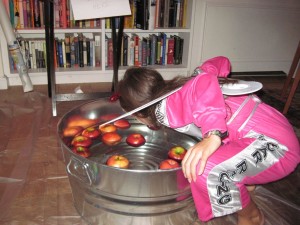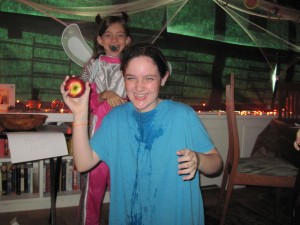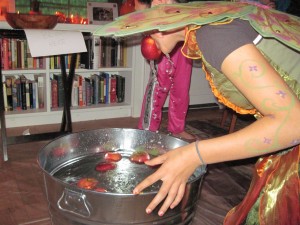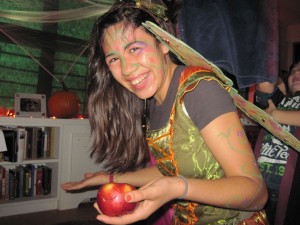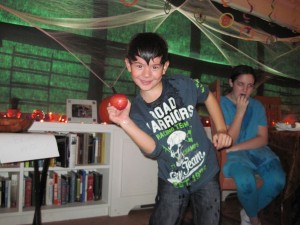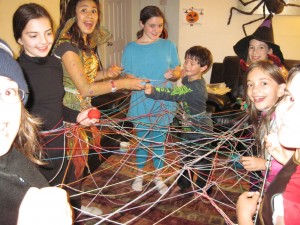 Today was the big day of the party.   After a morning spent blacking out our windows (we face south and somehow the bright sun and royal blue skies just didn't read  'scary Halloween setting' for us), picking up cupcakes, buying myself a studded collar (you'll have to tune in tomorrow for more on that) and setting up our games, we were ready.      Guests arrived, oohing and aahing at our costumes and decorations, and Maya was in heaven.   After all was said and done, everyone agreed they had the most fun bobbing for apples!  An oldie but apparently a very goodie.    It was hilarious to watch, as one by one the kids figured out that as soon as they made contact with an apple it would dip below the surface.   The only real way to get one was to dunk most of your head in the tub, trapping the apple at the bottom and biting down.   Great stuff.  (and by far the most fun to photograph!)
Once all the 'organized' games were done, and I use that term loosely, the kids kicked it into high gear, playing sardines, telephone, and then eventually disappearing into Maya's bedroom where they told ghost stories and dressed American Girl dolls.
Six girls, two boys, four hours and not one argument.  Pretty good, in my book.   I must say, that although I would never plan such elaborately decorated and 'busy' parties on my own, they always turn out to be fun.  Thank goodness Maya is here to prod us all along, getting us off our butts and into the spirit of things.
But being in the spirit all day means exhaustion at night, so I'll let the photos do the rest of the talking.
Part 3:  Trick or treating (and my costume) tomorrow….