Many of the wonders in New York City are hard to miss – Grand Central Station, Rockefeller Center, Central Park, the Intrepid, the Statue of Liberty, the Freedom Tower.
Others go virtually unnoticed unless you know where to look.
For the past two weeks I've been walking down a block on the West Side that is not usually part of my routine, and one day I happened to glance down as I was going by one of the buildings – a very normal looking apartment building – and saw dozens of violins and what looked like a work bench.
Today I went back and worked up the courage to ring the buzzer of "David Segal Violins".   David himself opened the door and I stammered through an awkward explanation of how I'd seen the violins through the window.  No, I don't play and am not in the market to buy…. I just looked in and thought they were beautiful.
And with that I was invited into the workroom.  The outer room is where the sale of  violins happens, and they had two customers trying out different instruments – holding them, playing them, seeing how they responded; how they felt.  (Honestly it reminded me of the scene in the Harry Potter and the Sorcerers Stone  when he goes to Ollivanders to get his wand – the violin picks the musician like the wand picks the wizard, it seems.)
The workroom, though, is where the real magic happens.  Violins and violas were everywhere, and the workbench was covered in tools and cloths and tiny brushes which could restore a broken instrument and give it new life.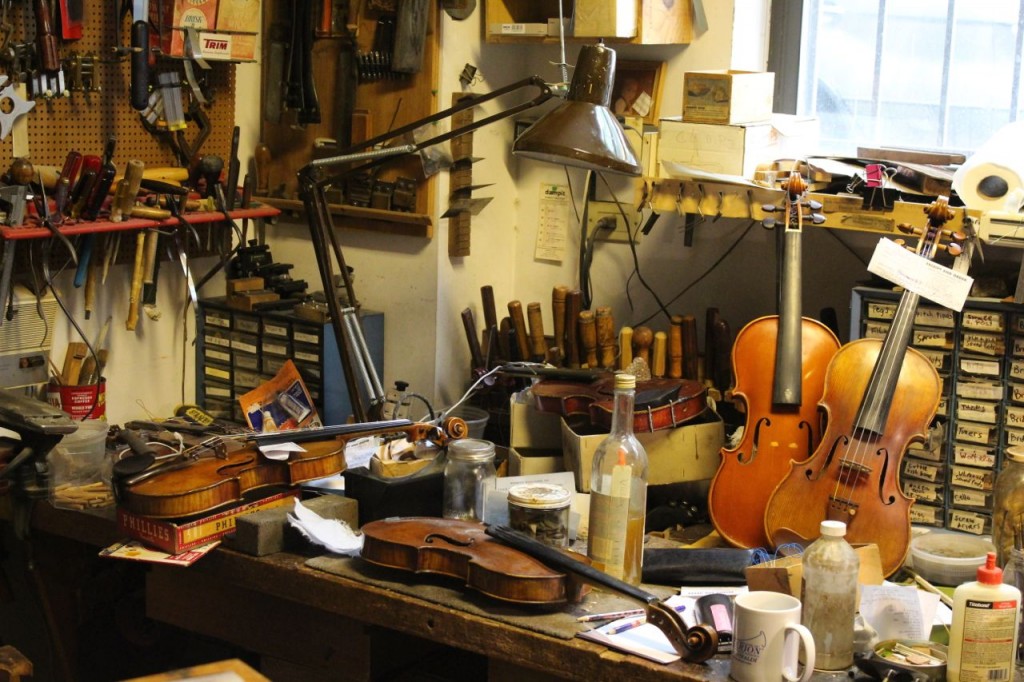 Today the shop and its' owner were busy, so he said he could not answer my questions, but told me I was welcome to take as many photos as I liked and also to come back on another day when he had more time to talk.   As I stood there marveling, I heard his wife, who was with a customer in the other room, mention the price of a Stradivarius (7 million).   I gasped, and David smiled and said, "You're standing right in front of a Stradivarius, but I won't tell you which one it is."
Each of these instruments is crafted by hand, restored and repaired by hand – no computer can polish the wood or repair the bridge or string each piece so that it tunes to perfection.  Only the hands of an artisan can do that.   Which is why David Segal's shop is a wonder.
One I'm so glad I didn't miss.