Recently the Pilates studio I've been going to every week for the past 14 years moved from their location on 23rd Street in Chelsea to a building on 3rd Avenue between 55th and 56th St.
My Pilates commute had always been a straightforward one; hop on the 1 train at 66th Street, a mere two blocks from my apartment, and get off at the 23rd St. station, a mere two blocks from the studio.   Easy.
Now that they are located on the East Side, with no direct subway line between here and there, I've had to weigh my options.   I can either take subways, which with transfers and wait time means about a 30 minute commute door to door, or pay for a taxi which is probably faster but considerably more expensive at between $15-20, depending on traffic.
Today I chose option #3, which is to walk.     From 3rd Ave and 56th St. to West End Ave and 66th St. takes about 40 minutes.  It's the slower route, but the scenery can't be beat.   Heading north from the studio I turned west onto 57th St, which at 3rd Ave is crazy busy; crosstown traffic competes with cars heading north to the 59th St. bridge, and there are fast-footed pedestrians crossing on red lights…   It's not my scene.
However, once you cross Lexington and are headed toward Park Avenue, things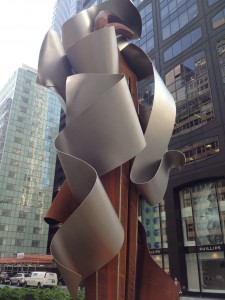 become quite a bit more civilized.  Standing on the corner of Park and 57th, you can look south and see the MetLife building (originally the famed PanAm building) or simply enjoy the latest sculpture installment that graces the middle of Park Avenue.
At the corner of Madison, I noticed that the Mont Blanc store had gone out of business, but the purveyors of gaudy antique knickknacks are still going strong.   The IBM building had some great art and sculptures in the lobby, and I passed several small art galleries that would be worth revisiting in the next few days.   On most of 57th St., the very upscale resides right along side the mundane; the Duane Reade drugstores, the Strawberry clothing stores and the ever present hair and nail salons.
Between Madison and 5th Ave, Tourneau tells you what time it is anywhere in the world with its' array of clocks;  Niketown invites you to explore 4 floors of all things Nike, and Tiffanys tempts you to dream of all things that glitter and come in small turquoise bags. (Last week a thief made that dream come true in broad daylight by stealing two necklaces from Tiffanys worth over 50K.  He asked to see them and when the clerk turned her back for a moment, he scooped them up and was out the door within seconds.  Takes guts, I'll give him that.)
Fifth Avenue is famed, but too congested with tourists and men in business suits with impatience oozing from every pore for my liking.
At 6th Avenue I passed Rue 57, the restaurant Maya and I go to every year on the Saturday after Thanksgiving before heading up the block to Carnegie Hall to see Arlo Guthrie & friends at their annual concert.   Today Carnegie was quiet, and only a few people were heading in to peruse the offerings for the coming season.
Once you cross 7th Avenue, the "mood" of 57th Street relaxes, just a bit.  You pass the Brooklyn Diner and Lee's Art Supply (favorite haunt of the Pitt-Jolie crew when they are in town) and at Broadway you can glance south and see the glare of Times Square from a distance, which is always the best way to see it.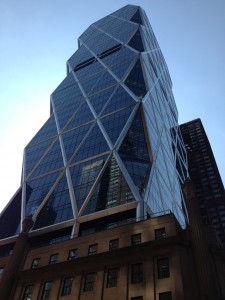 The Hearst Building looms large at the corner of 8th Avenue, but after that, with the exception of a new apartment building or two, things become a little less posh, a little more worn.  By the time you reach 9th you can see the vestiges of Hells Kitchen stretching up from the south, but one or two blocks north on 9th Avenue you are confronted with a huge swath of green in the form of lush grass, bushes and towering white birch trees with their light green canopy casting a cool shade all around.   This is, improbably, the Fordham Law School building and campus.   Its soothing surroundings belie the instruction that goes on inside, where students learn to sue and litigate and set precedent.
And then you reach Lincoln Center.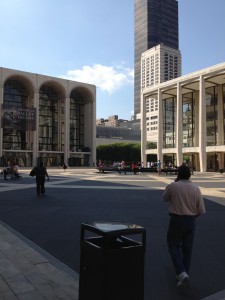 Because I am headed home, I cut across the plaza, beneath the towering and beautiful American Ballet Theater posters, past the even more beautiful Chagall paintings which hang in the lobby of the Met, finally skirting by the reflecting pool in front of Avery Fisher Hall that bears our last name.
A quick trip down the steps to the street and I'm walking past LaGuardia High School (the "Fame" high school) our library and fire house.
And then I'm home.
In 40 minutes I pass places some people only dream about; places they come to see on a "once in a lifetime trip".    It's a good thing to do now and then, to appreciate this city that can so easily be taken for granted and criticized for all its faults – like any place – but that is filled with light and art and life of all shapes, sizes and colors.