They call Mariano Rivera "Sandman" because usually when he enters a game for the Yankees, it's lights out for the other team.   No other closer in baseball history even comes close, with well over 600 saves and a post season ERA that is so low you think it must surely be a typo.  (It's 0.70 in case you're wondering.)
None of which was on my mind last night when we arrived at Yankee Stadium to watch the Yanks play the Arizona Diamondbacks.    We had train delays and the game started while we were making our way to our seats.
By the time we sat down, the score was 2-0 Diamondbacks.   C.C. Sabathia, usually a solid starter, had given up two runs in the top of the first inning.
And so we settled in to enjoy the view, if not the game.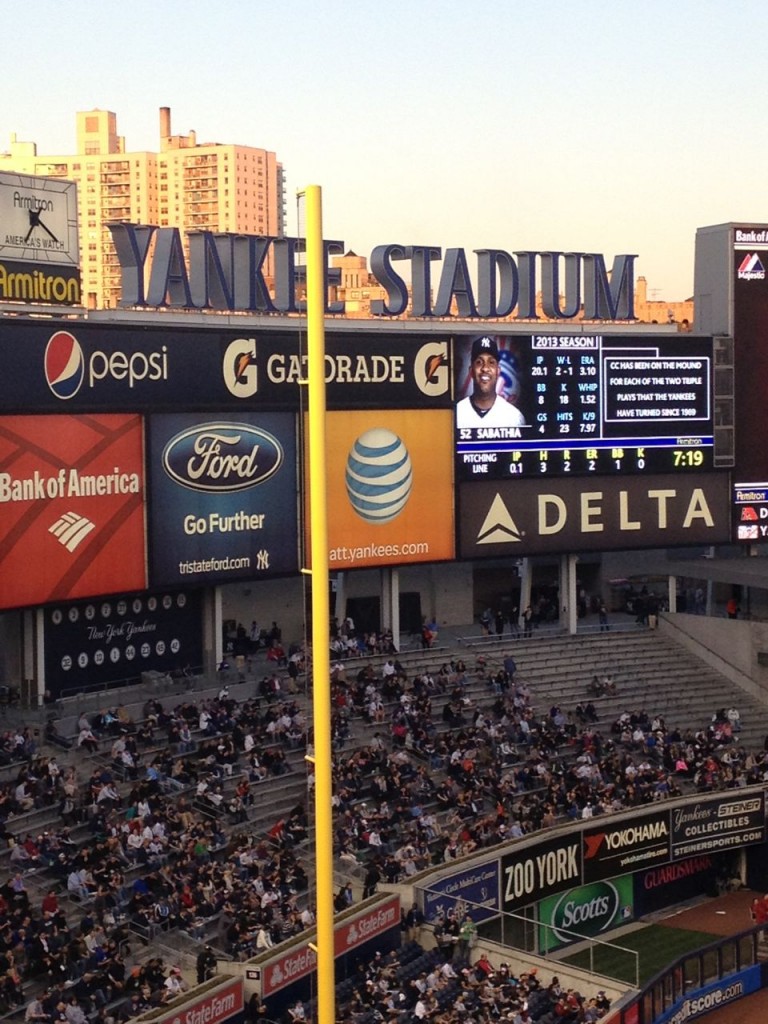 A few innings later, Arizona scored again making it 3-0, and although Sabathia settled down, the Yanks couldn't buy a base-runner and the first 6 innings flew by in under two hours.   We considered leaving early to beat the crowds, but baseball fans are nothing if not overly confident, and on the off chance that the team could get it together, we stayed.
The baseball gods smiled on us.
In the bottom of the 7th the Yankees rallied and tied the game, and a wave of excitement rippled through the seats.   A familiar figure rose in the bullpen behind center field and began to get loose.
Sabathia pitched through the 8th, and as the Yanks came to bat in the bottom of the inning I thought, "Oh no.  Extra innings."   Extra innings were something I just didn't want.  Rivera might come in and pitch two innings, but if the Yanks failed to score he'd be replaced and then all bets would be off.
Which is when I looked up at the scoreboard and saw that Travis Hafner was coming to the plate.   We haven't followed the Yankee roster very closely lately, so I am unfamiliar with Hafner.    I leaned over to my friend Rebecca, whose family was also at the game, and said, "Man, I really don't want to sit here for extra innings."  and then I said loudly, "Ok dude, this is your moment.   We need a solo shot home run right now." (No, of course he couldn't hear me.  It doesn't matter.  That's what fans at games do.)  And on the next pitch, that's exactly what we got.  Hafner hit a solo home run over the right field wall and Rebecca looked at me and said, "I can't believe it!"  as we were all jumping up and down like crazy people.
The jumping up and down? Yes, it was because the Yanks took the lead in somewhat dramatic fashion, but also?
Enter Sandman.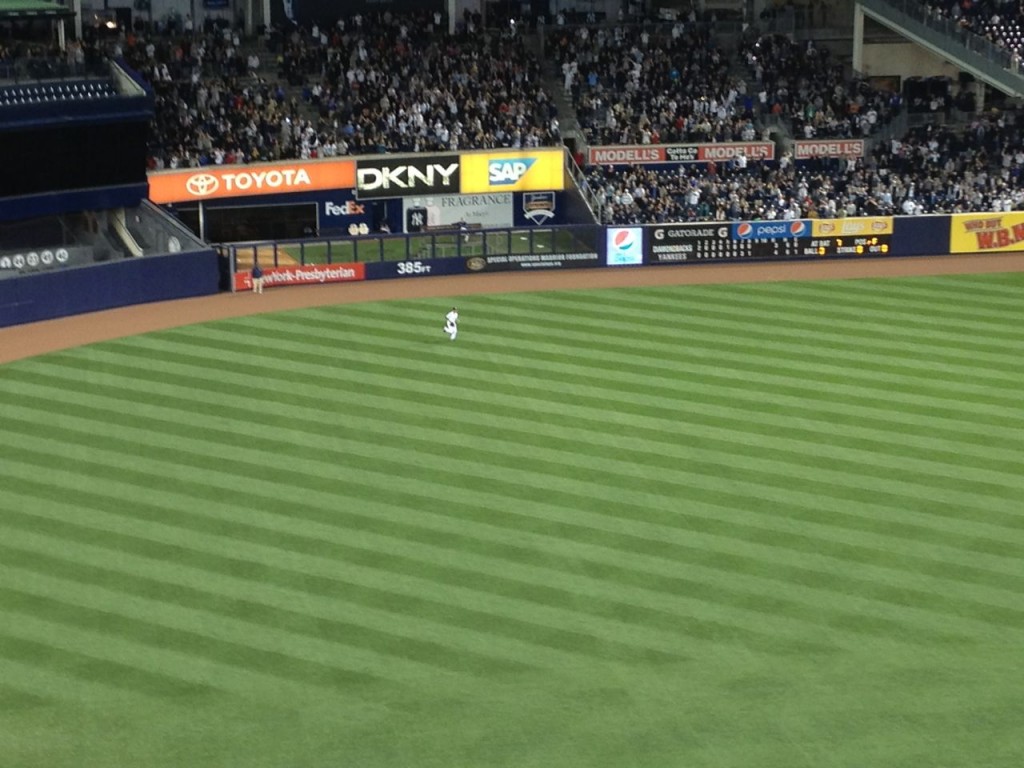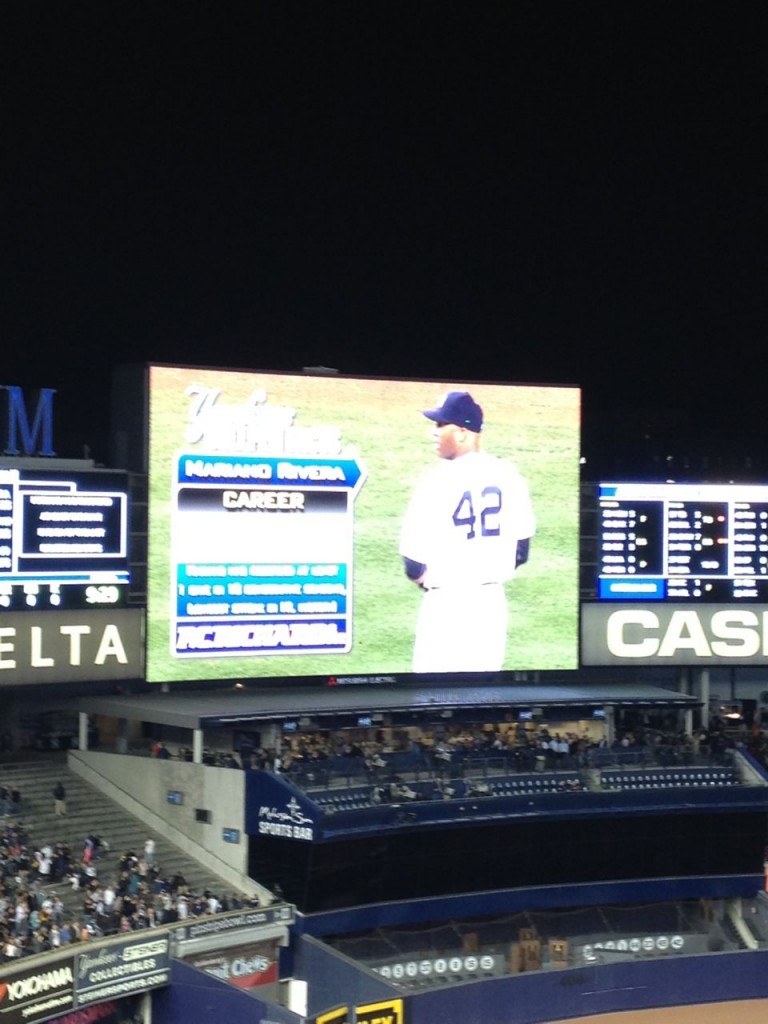 In typical Rivera fashion, it was 3 up and 3 down for Arizona and we all got to enjoy a little slice of history.
No, it wasn't an important game.  Barely two weeks into the season, the Yanks are riddled with injury and struggling to stay above .500.   No one will look back on this game as pivotal to the season or particularly significant in any way.
It doesn't matter.  We got to see the greatest closer in baseball history – who is currently the oldest active player in the major leagues & in the final season of his incredible career – do what he does best.
1,2,3.  Lights out.