Today we saw two of the most impressive buildings in the city.  One is the 42nd St. Library, and the other, the Cathedral of St. John the Divine.
Since I wrote about the library earlier in the week, I'll talk more about the Cathedral today.  Founded in the Episcopalian and Anglican traditions, the church, which is located on Amsterdam Ave at 112th St. is a monument to tolerance and acceptance, welcoming people of all religious traditions.    As their informational pamphlet states, "…the Cathedral is nourished by the ideas and liturgies of other faiths.  Priests, Rabbis, Monks and Imams share the pulpit as together we seek understanding."
In my opinion, there is no better place for such a church than New York City, because even though far from perfect, in New York you can't help but be in close quarters with people of vastly different backgrounds and beliefs whether on the subway, on the street, in the stores, restaurants and yes, sometimes churches.   And for the most part we get along.
Here is an example (not from the church):
The Cathedral pamphlet, after mentioning their pulpit that welcomes leaders of various faiths, goes on to say, "Equally important are the frequent appearances by artists, writers, musicians and philosophers who help educate our imaginations.  Art is a window into the minds of others, fostering the empathy that is necessary for community and spiritual growth."
This could also be a description of the city itself.    Art and music are everywhere.   We saw a traveling musician today outside the Julliard building.  Playing with him was a young guy with a guitar – maybe a student.  They didn't know each other but you wouldn't have guessed it by their music.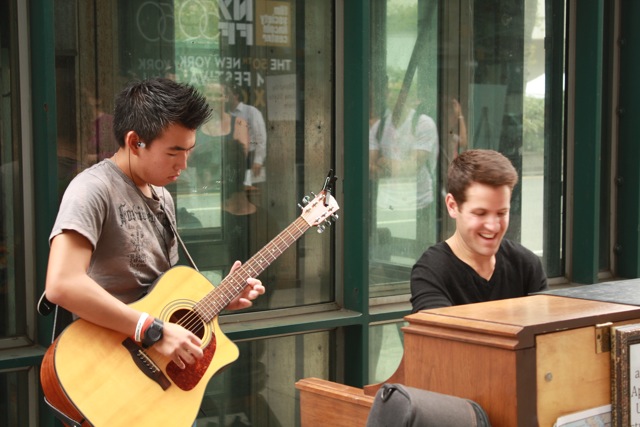 And finally, the Cathedral itself: