No, not Tennessee, though there is an Opry House.  But it's the "Little" one.
Nashville Indiana is located about 17 miles west of Columbus Indiana in the hills of Brown County.  We go there every time we are in Indiana for one primary reason.
The J.B. Goods Life is Good store.
It's become a bi-annual pilgrimage of sorts, so much so that when we walk in the door the owners say, "Hey, welcome back!  When did you get in from New York?"
Clearly I have spent far too much money there.
Nashville is also an artists' community, home to artisan leather, jewelry, woodcarving, fine art – you name it.   It is also home to some pretty kitschy tourist paraphenalia.  For example:
Then there is the local whimsy/art: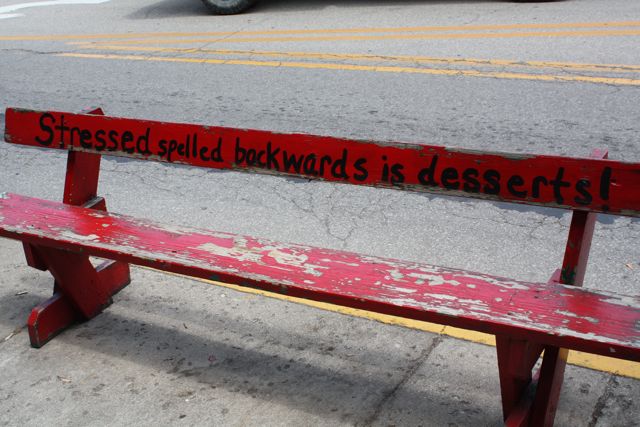 We bought shirts, caramel apples & leather bracelets; said hello to our friendly parking lot guy who has been there for years.  He charges $4 and sometimes when he's on a break getting food or walking his dog he leaves a tin can out for the money.  Remarkably, everyone pays.
I haven't been in any of the photos from this trip, so I made up for it today, demanding photos be taken while standing outside Miss Moonpennies Emporium on Main Street.  Since it was a "cool" 87 degrees and not very humid, everyone was happy to comply.