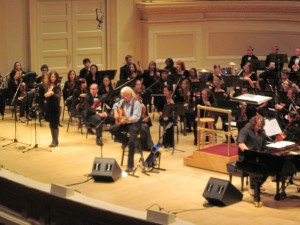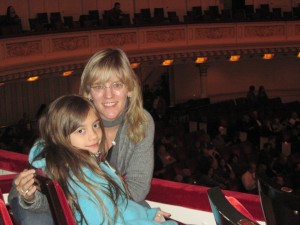 For a lot of people, Arlo Guthrie may only be known as Woody Guthrie's son.   Some may recognize the name of his most famous song, "Alice's Restaurant" and think of him as a 60′s hippie; a writer of outlandish protest songs who in his younger years was on the wrong side of the law more than once for his use of 'recreational substances'.   If you fall into this category, you might not recognize the man sitting on stage at Carnegie Hall last night, surrounded by his kids and backed by a full symphony orchestra.   For a guy whose first memory is standing next to Ledbelly (whom he credits as the reason he plays a 12 string guitar), whose father wrote "This Land is Your Land" and who freely admits to 'not really remembering'  much of the 60′s, the transition to elder statesman of folk (or any) music has been surprisingly seamless.
Every year at these concerts, there are people who are probably there for the first time, expecting the Arlo of old and yelling out "Alice!" at every lull in the music.  One such guy last night was good-naturedly rebuffed until, when coming out for the encore, Arlo beat him to the punch by looking in his general direction and saying "No!" with a chuckle before the guy could yell his request again.    In all the years I've been going to these shows, he's only done Alice's Restaurant once;  not only because it is a 25 minute song and takes up an inordinate part of the show, but also, I think, because Arlo would rather be playing something else these days.   This year the orchestra opened the show with Leonard Bernstein's  "Overture" to Candide and then Aaron Copland's "Hoe-Down" from Rodeo.   When Arlo came on stage, he told us that his mother had danced at the premiere of both those pieces during her time with the Martha Graham Dance Troupe in the late 30′s and early 40′s, which is why he asked the symphony to perform them.   Arlo talks more now about the connections between seemingly disparate music and people than he does about politics or protest.   His mother was Jewish; his father a country boy from Oklahoma.  His grandmother wrote Klezmer music, some of it still well-known and performed, and she and Woody apparently collaborated on several songs, to the amazement of all.
If you look around the audience at Arlo's shows nowadays, you will always see a few boxes occupied by  Orthodox Jews.   There are also the old hippies in tie dye, and lots of kids.   Arlo laughingly says that his shows aren't as much for singing along as they used to be – that it's a little too "Kum Ba Yah" for most people.   But then he says he believes that people singing together is a sound that can travel in the wind and touch someone in a far off land – and that it's our job – his job – to make sure that keeps happening every now and then.     Although he didn't always have a smooth relationship with his own father, he talks about how much he's always loved families who sing together.  He mentions the Carter Family, and talks of meeting May Belle and June Carter and later, Johnny Cash.   He sings old songs by his Dad and Charlie Chaplin and Ledbelly, throwing in a spiritual or two for good measure.    He says he loves the old songs the most, not just because of the lyrics, but because the songs are imbued with the spirit of the person who wrote it and all the people who've ever sung it since.
He is still a rambling storyteller, and his voice is as nasal and clear as ever, but the stories tend to be more about his family, or his experiences as a kid when he didn't realize his father was famous until he went to school, heard all the other kids singing "This Land is Your Land" and cried because he was the only one who didn't know the lyrics.     He is funny and ready to laugh at himself and his family, (including a hilarious story about his wife being arrested recently when going through airport security) but the love between the Guthrie's is  palpable.
In a world where most people seem bent on an 'all or nothing' point of view, Arlo has become a great example of inclusiveness.   Where else can you go and hear Leonard Bernstein and Ledbelly in the same show, by the same musicians?    Maya is only 10, and yet at this, her second Arlo concert,  she was tapping her foot, swaying to the music and listening intently to every word.   No education I could think of can top that.